MakerBot Method Carbon Fiber 3D Printer
The MakerBot Method Carbon Fiber is manufacturing workstation which allows you to print end-use parts, manufacturing tools and functional prototypes with great dimensional quality and strength. its heated chamber (60°C) and two special developed high-performance extruders let you reach unseen results.

This MakerBot Method Carbon Fiber reaches these results, straight out of the box. Combining the knowledge of MakerBot and mother company Stratasys, the design of the Method Carbon Fiber creates a seamless workflow from CAD-design up to the printed part.

Dual Performance Extruders
With the Model 1A Extruder and Support 2A Extruder, you can 3D print a great variety of materials on the MakerBot Method Carbon Fiber. Next to those, you also receive the 1C Composite Extruder.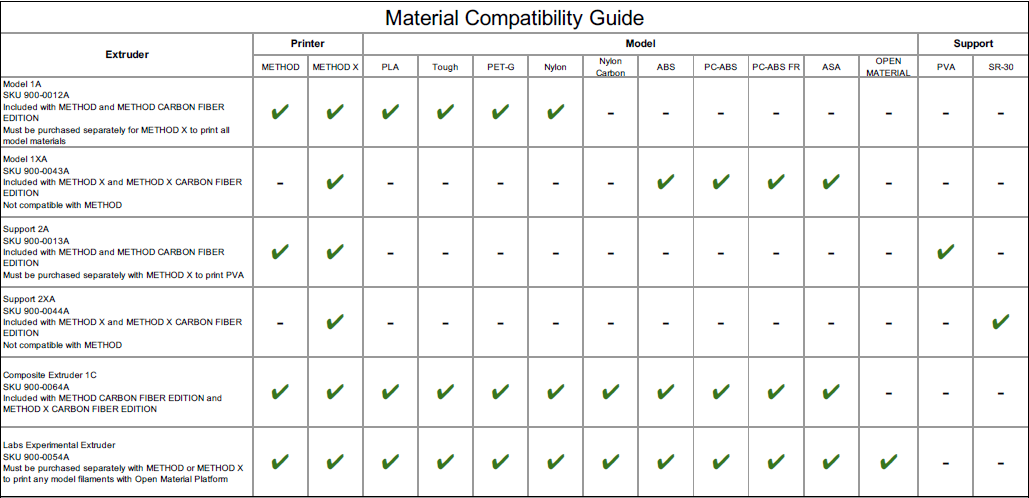 The build volume of 19 x 19 x 19.6 cm (single extrusion - coming soon / 15.2 x 19 x 19.6 for dual extrusion) allows you to combine quality with ease of use. On top of that, the MB Labs Extruder allows you to print third party materials on the MakerBot Method Carbon Fiber.

Printing Carbon Parts
The Method Carbon Fiber allows you to print carbon reinforced materials easily, thanks to the 1C Composite extruder that is delivered with the printer. The circulated heated chamber allows your prints to be annealed during the printing process.

Circulated Heated Chamber
Another unique feature of this MakerBot Method Carbon Fiber is the circulating heated build chamber. Compared to other 3D printers, the circulating heated air within the MakerBot Method Carbon Fiber consistently keeps the temperature on 60°C inside the printing chamber. This optimizes the quality of the materials and the dimensions of your prints. The superior Z-layer bonding provides higher strength and better surface finish without warping and curling.

Wifi-Connectivity
The Method Carbon Fiber offers not only a certainty for optimized results, thanks to its 5" LED Touchscreen and WiFi connectivity it also is easy to use. You can start your prints from your desktop, thanks to the WiFi connectivity.  

Ultra-Rigid Metal Frame Construction
The MakerBot Method Carbon Fiber has a structurally optimized metal frame that runs the full length of the body to offset flexing. Less flexing means more consistent prints with better part accuracy and fewer failures.

Following items are delivered together with your MakerBot Method Carbon Fiber 3D-printer:
MakerBot METHOD

Carbon Fiber

3D Printer
Spring Steel Build Plate
1 Performance Extruder 1A Model
1 Performance Extruder 2A Support (for PVA)
1 Nozzle Brush
1 Hex Key
1 USB A-to-B Cable
1 EU Power Cord
1 US Power Cord
1 Composite Extruder 1C
| | |
| --- | --- |
| Print technology: | Fused Deposition Modeling (FDM) |
| Maximum build volume: | 19 L x 19 W x 19.6 H cm |
| Dimensions of the 3D printer: | 43.7 L x 41.3 W x 64.9 H cm |
| Weight: | 29.5 kg |
| Pre-assembled?: | Yes |
| Nozzle diameter: | 0.4mm |
| Nozzle temperature: | |
| Filament diameter: | 1.75mm |
| Layer Resolution: | Range: 20 - 400 microns |
| Print speed: | Max Material Flow Rate: ~50 mm3 per sec |
| Positioning precision of the axes: | ± 0.2 mm |
| Calibration: | Fully automatic dual nozzle calibration. |
| Printable materials: | PLA, Tough, PVA , third party materials |
| Heated printbed: | Flexible steel build plate | heated chamber both up to 60° |
| Stand alone printing via SD?: | No |
| Stand alone printing via USB?: | Yes |
| Stand alone printing via WiFi: | Yes |
| LCD Screen: | 5" Full-Color Capacitive Touch Screen |
| Software: | MakerBot Print, MakerBot Mobile |
| File format: | MakerBot (.makerbot), STL (.stl), SolidWorks (.sldprt, .sldasm), InventorOBJ (.ipt, .iam), IGES (.iges, .igs), STEP AP203/214 (.step, .stp), CATIA (.CATPart, .CATProduct), Wavefront Object (.obj), Unigraphics/NX (.prt), Solid Edge (.par, .asm), ProE/Creo |
| Supporting OS: | Windows (7, 10) Mac OS X (10.9+) |
| Open / Closed Source?: | Semi-Open Source |
| Remarks: | *Optional MB LABS extruder is required to print with third party filaments. |