BigRep Industrial Pro HT "Schwarz"
The industrial filaments of BigRep are ecological and innovative alternatives for ABS. One of these types, Pro HT, is a high-temperature resistant material. It is also weather proof, thanks to its extreme UV and heat-resistant capabilities.

Great results at low printing temperatures
Because not all units of BigRep are fully closed, the Pro HT (HT = High Temperature) filament was developed. The results that are made with the Pro HT-filament are excellent, while the material is printed at lower temperatures. This last provides even better thermic and mechanic properties. Finally, the Pro HT material has very low warping issues.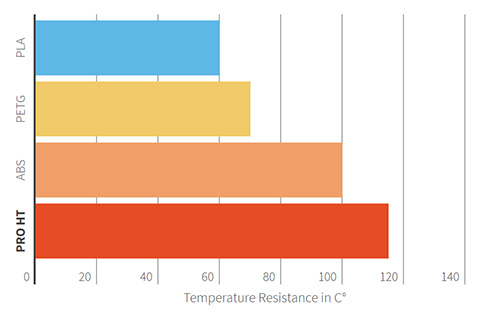 BigRep 3D Printer filament
The BigRep filaments were created under carefully-controlled conditions to guarantee uniform diameters, roundness, composition and color. The aim of creating these materials is to optimize the combination between the high qualitative 3D-printers and its materials.

Properties
| | |
| --- | --- |
| Filament Net Weight | 2.5kg /4.5 kg |
| Material | BioPolymer |
| Density | 1.3 g/cm³ |
| Diameter | 2.85mm |
| Print Temperature Guideline | 195°C - 205°C |
| Heating Bed | 55 - 60°C |
| VST (ISO 306 VST A120) | 115°C |
| Tensile Strength (ISO 527) | 44 MPa |
| Impact Strength (ISO 179) | 216 KJ/m² |
| Flexural Modulus (ISO 178) | 2600 MPa |