This revolutionary model is unmistakably the icing on the cake. Again, HP guarantees a system that excels in durability and user-friendliness. A system that effectively makes people's work easier. Even without any prior knowledge of 3D printing.
Creating a culture of in-house development
'Our goal is simply to challenge companies to think differently. We want to minimize the inefficiency and costs of current product developments', says Roald Swerts. 'Companies taking the step to develop and produce products in-house not only save a lot of time but also a lot of money'.

Imagine for a moment that -as development team- you will be able to revive your own designs through 3D printing. Your ideas immediately take shape and adjustments can be implemented the very same day.

'The HP MJF 580 is, in addition, a perfect example of plug and play. The entire printing process is almost completely automated. For the user it is only a matter of waiting for the prints', Roald clarifies.
Unlimited possibilities in 3 Trideus prints
By visiting Trideus, you will not only get to know the HP MJF 580 live, but you'll also experience the potential of this unique 3D printer on the basis of concrete prints. Our Trideus expert is happy to lift a tip of the veil:
Print 1: Generative Design – Connection piece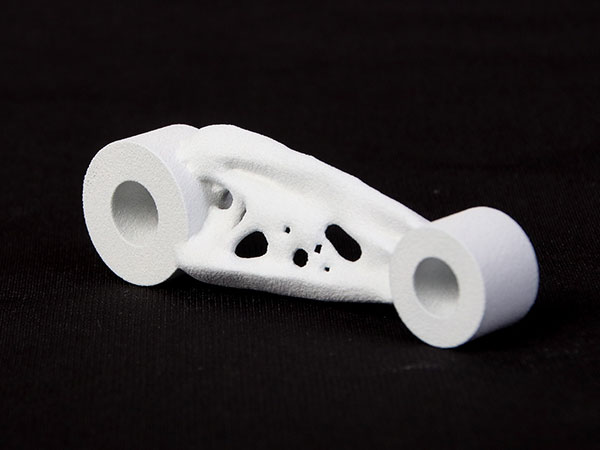 'Unique design only realizable with 3D printing'

This connecting piece once looked completely different. There was a straight, inefficient connection between both ends.

After loading the CAD-file into the improvement software, it calculated a new path with the help of artificial intelligence. This enabled us to create a completely new, organic connection, taking into account all acting forces. A connection that is strong where this is needed, but does not contain unnecessary material in the places where no force is put on.

From inefficient production to efficient renewal!
Print 2: Prototyping – Filtration system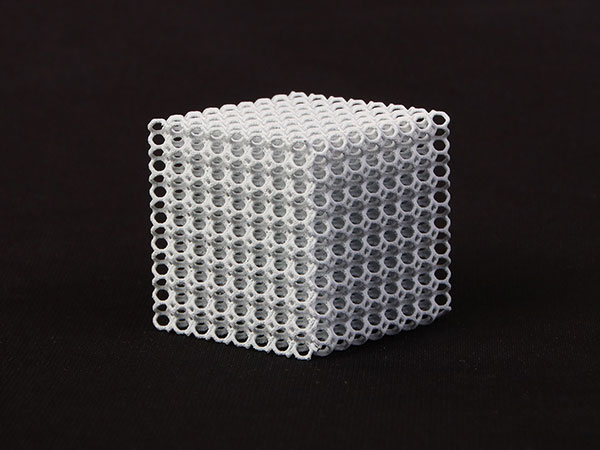 Outsourcing prototyping is often a long process with high costs. It can be done a lot faster and cheaper!

This print is a perfect example of how additive manufacturing can be applied in your prototyping process. It shows a simple filtration system on scale that has the purpose of blocking dirt particles of a pre-set maximum size.

Printing these systems in-house gives you as a company countless benefits:
the flexibility to adjust the size of the mesh yourself at any time;
developers can test and refine non-stop;
the innovation process accelerates by 75%;
the development of your product is much more efficient
Print 3: Functional design – click system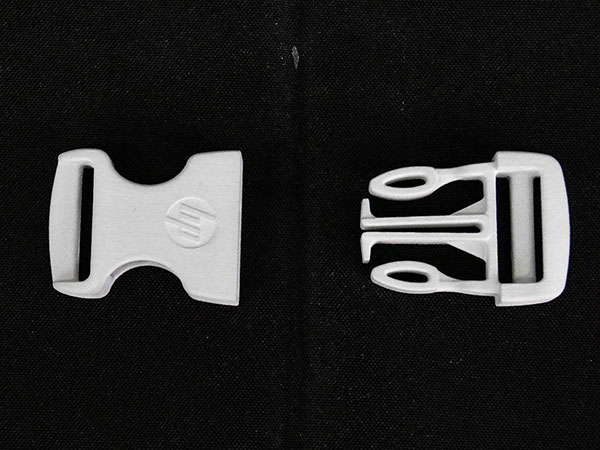 This example shows us that everyday items can be perfectly produced through 3D printing. Trideus printed a simple click system. One that's quite familiar to us all.

Our HP MJF 580 enables us to produce this element in one single piece and in a extremely durable material. A material which is very flexible, but will not break. A material that ensures our click system, despite the intensive use, always returns to its original form. Admit, that's pretty handy!
HP: high resolution and materials with strong properties
For the HP MJF 580, Hewlett-Packard combines their 2D printing technology (which it has been successfully applying for years) with polyamide 12; a durable and flexible, but very strong material.

Roald Swerts, Industrial Sales Solutions: 'Combine these qualities with the enormous benefits of 3D printing and I'm absolutely convinced: in the future, most parts will be 3D printed. Already now, the technology is being used on a large scale in the prototyping process!'



Interested in the possibilities of the HP Jet Fusion 300/500 series?
Schedule an appointment today with Roald Swerts by sending an email to [email protected]