3DGence Industry F420 3D printer
The 3DGence Industry F420 is an industrial dual extrusion 3D printer with a multitude of possibilities. Applications where accuracy, speed, comfort and safety are crucial are supported with ease by this Industry F420. The different printing modules allow you to create items in a variety of technical materials, including high-performance thermoplastics such as PEEK and ULTEM.

Focus on speed
De 3DGence Industry F420 distinguishes itself from other 3D printers in many ways, but one of them is an eye-catcher: its printing speed. By implementing a number of innovative solutions, the F420 is not only a great Rapid Prototyping tool, but also a full-fledged additive manufacturing system. The newly developed kinematic system allows the Industry F420 to reach printing speeds up to 400mm/s.

The modularity of printing possibilities
Just as the Industry F340, the Industry F420 works with different printing modules. Each module (M280, M360 and M500) allow each user to print freely in a number of specific materials. From the well-known basic materials (PLA, ABS, Nylon, …) up to high-performance thermoplastics (PEEK, ULTEM, …), the Industry F420 has a specific printing module for each material.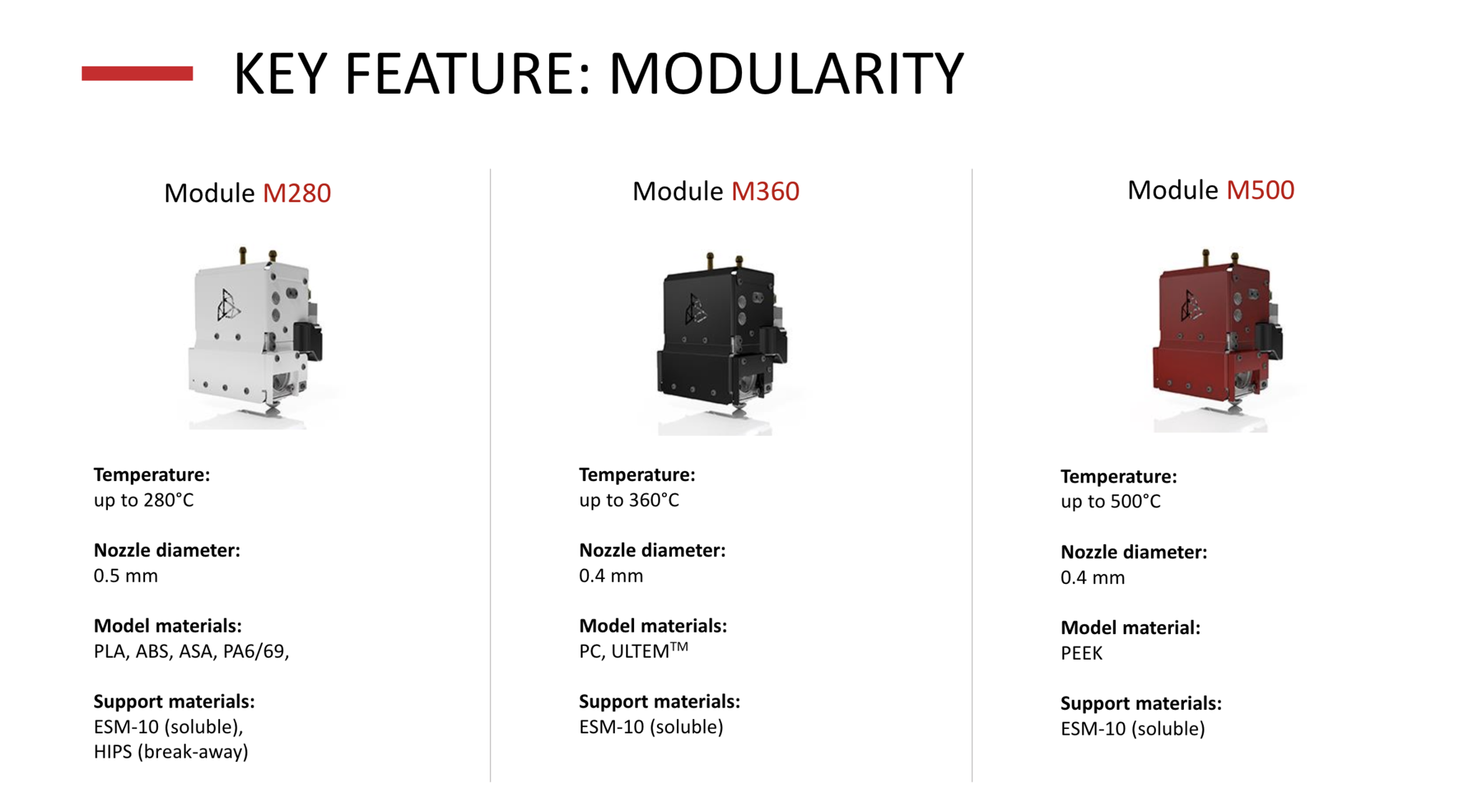 Next to this, the Industry F420 has a heated build chamber that reaches temperatures up to 180°C. This chamber helps you print the more technical materials with more ease. Not each material can be printed as easy as another. For this, the heated build chamber and the borosilicate build platform offer excellent support to reach optimized results with each print.

Focus on safety
Quality, speed and ease of use are only some of the key features of this Industry F420. Another aspect that is important is safety. By printing in high temperatures, combined with the heated chamber, safety is a key feature for 3DGence. For example, there is an electronic lock of the main chamber door that can be controlled via Cloud Service and the printers' interface. An emergence switch immediately cuts of power to motion and thermal control, if needed.

Air quality is another important feature. The Industry F420 uses an advanced ULT Filtration unit, capable of filtering macro dust, nano dust (VOC, UFP), solvent vapor, noxious gasses and foreign particles.

Online Cloud Monitoring
Last, it is no longer required to be standing at the printer to control it. You can remotely start, cancel or queue prints, with the live feed camera offering the possibility to check the progress of your print. The integrated automatic spool change system (the industry F420 has room for 4 material bays, storing four 1kg spools of material each) let you print instantly, without having to check the spools before each print.

Do you want to know more about this 3DGence Industry F420, don't hesitate to contact our sales team for more information, or a visit to our demo center.
| | |
| --- | --- |
| Print technology: | Fused Filament Fabrication |
| Maximum build volume: | 380 x 380 x 420 mm |
| Dimensions of the 3D printer: | 1900 x 940 x 900 mm |
| Weight: | 350kg |
| Pre-assembled?: | Yes |
| Nozzle diameter: | 0.5/0.5mm or 0.4/0.4mm |
| Nozzle temperature: | Max. 500°C |
| Filament diameter: | 1.75mm |
| Layer Resolution: | min. layerheight: 50 um |
| Print speed: | up to 400 mm/s |
| Positioning precision of the axes: | XY: 0.006mm / Z: 0.0007mm |
| Calibration: | Automatic |
| Printable materials: | Depending on the printing module |
| Heated printbed: | Yes, up to 180°C |
| Stand alone printing via SD?: | No |
| Stand alone printing via USB?: | Yes |
| Stand alone printing via WiFi: | Yes |
| LCD Screen: | LCD Touchscreen |
| Software: | 3DGence Slicer 4.0 / 3DGence Cloud |
| File format: | .stl, .obj |
| Supporting OS: | Windows, MacOS |
| Open / Closed Source?: | - |
| Remarks: | Equiped with 72aH UPS unit |